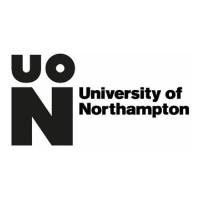 The University of Northampton
About University of Northampton
The University of Northampton is a public university located in Northampton, England, with a rich history that spans nearly two centuries.

The university's origins can be traced back to the establishment of Northampton Mechanics' Institute in 1867, marking the beginning of its educational legacy. Over time, the institution evolved and, in 1924, it became known as the Northampton Technical College. It continued to grow and adapt, becoming Nene College in 1975.

In 1999, Nene College was granted university college status, becoming the University College Northampton. This marked a significant step in its journey towards full university status. Finally, in September 2005, the institution was awarded full university status and officially became the University of Northampton.

Today, the University of Northampton offers a wide range of educational opportunities. It provides over 120 undergraduate courses and more than 60 postgraduate courses, all within the framework of its diverse and dynamic Academic Schools. The university's commitment to academic excellence and its strong history of providing quality education make it a reputable institution for students seeking both undergraduate and postgraduate studies.
Find list of available programmes
BA (Hons) International Logistics & Trade Finance
BA (Hons) Marketing Management
Find list of available programmes
MBA – Master's Degree in Business Administration
MA – Master's Degree in Human Resource Management
MSc – Master's Degree in Accounting and Finance